Driveway Ideas - Stylish Resin Drives to Make an Enterance in Mansfield
We can transform your drive. Resin driveways are quickly becoming the most popular installation in the UK. Resin drives require very little maintenance.
If you're reading this you might have some idea of what resin-bound driveways really are and why these driveways are so popular.
Permeable resin bound driveways provide stunning visuals and a durable, SuDS-compliant surface that doesn't require planning permission*. A resin driveway is a beautiful alternative to brick, concrete, or loose gravel. It requires very little maintenance and will provide years of exceptional performance.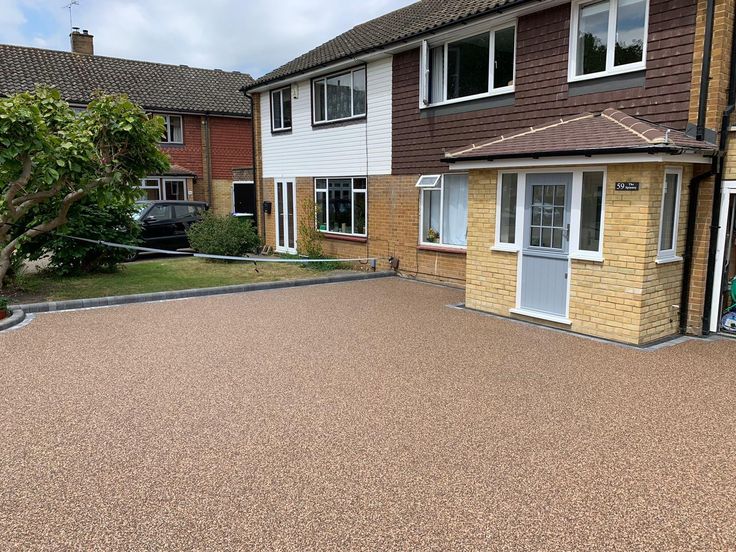 We offer many colour and texture options to match or contrast any surrounding surfaces. This wide range allows you to create a resin driveway unlike any other. If you are looking for a flood-free driveway or an extension to your driveway, resin bound paving can be installed on top of a reinforced base structure. This will make it environmentally friendly and compliant with the SuDS regulations.
Resin bound driveways are easy to maintain and have a smooth surface that is easily accessible. There is no loose stone that can migrate into other areas. This makes them ideal for neighboring lawn areas. You only need to clean your driveway occasionally and do some power washing.
All driveway installations come with all the materials, and are done by qualified and licensed teams. We offer outstanding customer service and only provide high-quality materials to complete driveway installations.
Our color selection brings life to outdated driveways that require kerb appeal. There are many texture options available, including natural aggregates and crushed stone, as well as recycled coloured glass.
Do They Need Much Attention?
Our resin bound pavement is a beautiful, durable, and long-lasting surface which requires almost no maintenance. The low-energy material is mixed at site and floated on site by skilled installers to provide a smooth surface. This makes it ideal for areas where wheelchairs or pushchairs are allowed.
What do you see when you picture your driveway? What is it about a seamless multi-colored driveway with block-edged borders that looks so beautiful?
Resin driveways are the best option. These driveways are what you need and should you consider them. We answer all of your questions today and provide the details on how to install resin driveways. This includes the top 5 reasons to install a resin bound driveway. We also provide some helpful installation tips.
Resin is the most popular choice for driveways. We guarantee resin driveways are the right choice for you. Resin bound driveways are the contemporary choice.
There are many options for colour combinations, so you can have a driveway that blends with the surroundings or create a driveway that is striking and visually impressive.
Resin driveways are very durable. They will last for years and look great. You'll need this information to calculate how much you can save over the lifetime. This is due to resin being applied on top of concrete or pre-existing asphalt. It seals any holes that could allow for weeds or other debris.
Resin bound surfaces can be decorative and long-lasting. They perform better than any other forms of pavers in terms overall performance.
To get a detailed, no-obligation quote with all costs, don't hesitate to contact us. The best driveway solution is available for a fraction of the cost of an average driveway.
Would your property benefit from a new, state of the art resin patio, path or driveway in Mansfield? Contact us for a no obligation quote on 07595 510190. You can also email us [email protected] or visit our website www.kerbramps.co.uk