Block Paving Drives Mansfield
There is a rising trend to have a grand driveway for your home. There are many different types to choose from and many different designs and styles. The question is are they worth the money or are they just a fad. Let's look at a few of the other types of driveways that you could have outside your home.
The first up would probably be the resin bonded driveway. This is a fairly new edition to the driveway family and a fairly new concept to the industry. What is a resin bonded driveway? To make it simple a resin bonded driveway appears to be made to look like a traditional pea shingle driveway but on closer inspection we find that it is a small layer of angular grit held together with glue. The material is literally mixed up and with a trowel spread onto a tarmac surface and left to set. Why not just has a pea shingle driveway?
Well many driveway experts have found that after a short period of time the shingle starts to be carried down the road in the tracks of car tyres that have rolled onto the drive, the shingle ends up being carried down the road and periodically the pea shingle has to be replaced. With the resin bonded driveway the surface is unmovable but still gives the same appearance of a shingle driveway. One major advantage of a resin bonded driveway is that you can have almost any color you wish, the dye is simply mixed in at the beginning of the process.
Traditional gravel or pea shingle driveways: These were once only for the very wealthy. They were introduced as a security measure. The idea being that when a vehicle or person made contact with the shingle, the noise would alert the household to the intruder.
Shingle driveways are still very popular and will continue to be.  They are still cheap to create and the security aspect is still favored by those who are in remote areas.
One major disadvantage is the shingle has the ability to hold metal objects vertical and these will eventually find their way into the tyres in your car.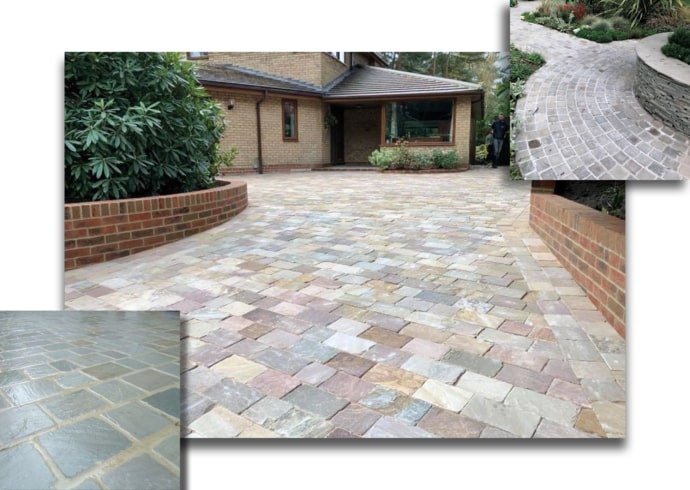 Block paved driveways: These have only been around since the early eighties but seem to have lasted the test of time. There are many different types colours and styles to choose from, you could even make your own pattern if you so desire. The advantages of having a block paved driveway are marginal; much of it comes down to personal taste. But durability is a major attraction as block paving can last a very long time.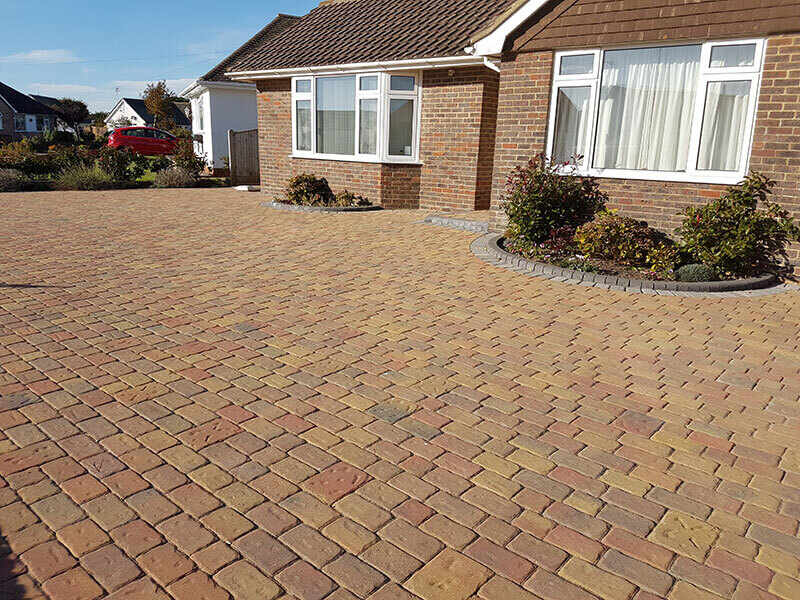 EXPERT BLOCK PAVING CONTRACTORS
From patios and pathways, to driveways, forecourts and terraces, we provide a full range of block paving design and installation services in Mansfield and adjacent areas. We offer personalised block paving services to both our domestic and commercial customers in the Midlands, offering free initial consultations as well as after-sales support.
If you have always wanted a block-paved driveway or patio area but have been put off by the fact it can be considerably more expensive than alternative surfaces, please contact us to request a detailed proposal covering all of your needs. We think you will be pleasantly surprised at the block paving driveway cost in Mansfield that we quote and with no obligation to proceed, you have nothing to lose!
BLOCK PAVING SERVICES TAILORED TO YOUR SPECIFIC REQUIREMENTS
We pride ourselves on our ability to provide every client with exactly what they want, at an affordable price. We pride ourselves on our ability to personalise the service we provide to each of our customers, offering them exactly what they need at an affordable price.
If you have any special requirements that you would like to discuss with one of our experts, please do not hesitate to call at any time during business hours or to send us an email whenever you wish. If you're seeking a beautiful block paving driveway to enhance the entrance to your Mansfield home, get in contact with our team today to help turn your dream into a reality!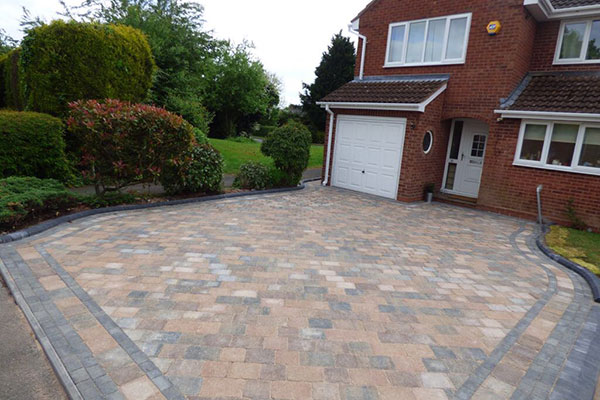 This is still one of the most popular choices for a driveway in the UK. It provides a strong base and even if any damage does occur, replacing the odd block is relatively quick, easy and inexpensive. The blocks themselves can vary in terms of size, shape and colour, which does enable patterns to be created. Cobblestone driveways are one of the block alternatives to brick.
They provide a more period look and feel and therefore complement older style properties but are generally a more expensive option than brick.  As with bricks, they will gradually attract moss and algae, so to keep them looking good will require  cleaning – typically with a jet wash. Over time seeds will find gaps between the blocks and can grow in those areas, so you'll need to keep an eye out for weeds and treat when required. 
Block paving has increasingly becoming the first choice for customers in Mansfield when improving their driveways, paths and patios. Paving blocks are available in many different colours, styles and designs, including beautiful edging and features that can enhance the paved area.
Different block paving effects can be achieved using standard paving blocks, circular sections or decorative kerb stones. With a large range of possibilities to choose from, your new driveway or patio can easily be designed to match the current style of your Mansfield house or garden areas.
Block paving driveways make an impressive addition to your home, but it's important to have them expertly laid to avoid unsightly ground movement or low spots.
Our block paving service is carried out using industry leading techniques and installed by a fully trained team, to ensure long lasting results.
Current planning laws are followed closely to ensure the correct drainage provisions have been made.
Get in touch today for a FREE NO OBLIGATION QUOTE.